2014 Up the Crooked River Duathlon
April 27, 2014
10:00 AM Start
---
GENERAL INFORMATION:
Run course:

5K Run - 40K Bike - 5K run
Walk course:

2 mile Walk - 10 mile Bike - 2 mile Walk
This is an event with a magnificent RUN-BIKE-RUN course and a WALK-BIKE-WALK course in Prineville, OR. The bike course takes you out and back along the beautiful Crooked River.
The two events will be run simultaneously. They are designed for everyone - all ages and abilities. Participants will need to be in average physical condition.
The user friendly race courses will be clearly marked and staffed by volunteers to keep you going in the right direction.
All finishers will be awarded a Finisher's Medal. Awards will be given for First, Second, and Third place winners in each age group/male and female and each team. The awards will be presented after the race at Pioneer Park.
Age groups for each event male and female:
14 and under, 15 to 19, 20 to 24, 25 to 29
30 to 34, 35 to 39, 40 to 44, 45 to 49
50 to 54, 55 to 59, 60 to 64, 65 and over

Team:
Consisting of two participants

After the race, a boxed lunch is available for $5.00. The meal is served in Pioneer Park.
The event supports the Prineville Band of Brothers - "Veterans Helping Veterans".
ENTRY FEES:

Individual Run/Bike/Run $40.00
Team(2) Run/Bike/Run $70.00
Individual Walk/Bike/Walk $40.00
Team (2) Walk/Bike/Walk $70.00
(Late fee after 4/21/14) $10.00
(No refunds on pre-paid entry fees.)
EVENT DESCRIPTION:
Sunday, April 27, 2014
Start time: 10:00 am
The run/walk events start at the historic Pioneer Park in downtown Prineville and takes you through residential neighborhoods, past the Prineville High School and out to Crooked River Park (Les Schwab Ball Fields) where you will transition to the bike. The bike portion will take you south (paved highway) toward Prineville Reservoir beside the lush meadows and beautiful Crooked River. The bike portion, beginning at the Crooked River Park is a 20K out & back for the runners and a 5 mile out & back for the walkers, transition back at Crooked River Park to the final run/walk ending at Pioneer Park for food and awards.
The course is flat and fast with a few rollers.
Race packets will be available for pre-registered participants on Saturday, April 26th at Norm's Xtreme Fitness between 8:00 am and 4:00 pm. Pre-registration packets may also be picked up on Race Day.
Timing:
Official time will be for the overall event. No official split times will be available.
Support:
Water stations on the run/walk portion and at each turn-around on the bike portion.
First aid support will be available.
GUIDELINES:
NON-PARTICIPANT SUPPORT/ASSISTANCE WILL NOT BE ALLOWED DURING THE RACE.
FOR SAFETY, NO IPODS, ETC WILL BE ALLOWED DURING THE BIKE PORTION.
RUN PORTION:
Traffic will be on the roads. Run facing on-coming traffic.
WALK PORTION:
Participant must maintain a "walking" pace. No jogging or running will be allowed as awards will be given as a "walker's" event.

BIKE PORTION:
The bike transition area will be fully secured. Identification will be required to pickup a bike after the event. Non-participants will not be allowed into the transition area during drop off. With participant's permission and identification, they will be allowed to pickup bikes after the event.
Bikes of any type will be permitted, but they are to be in good operating condition.
Helmets are required.
Although the highway used for the bike portion will be open to traffic, we request that participant's support staff stay off the route to increase participant's safety.
CONTACT INFORMATION:
PRIMARY SPONSOR/ADDITIONAL CONTACT
NORM'S XTREME FITNESS
Norm or Alicia Smith
120 NW 3rd Street, Prineville, OR 97754
Phone: (541) 416-0455
Email: normsxtreme@bendbroadband.com

SPONSORS:
Dad's Place
229 N. Main Street
Prineville, OR 97754
541-447-7059

J & L Auto Restoration, Inc.
3048 SW High Desert Dr., Suite O
Prineville, OR 97754
541-458-8865
Email: jandlautorestoration@outlook.com

N'the Zone Ink
Josh Love and Deanna Smith
62980 Boyd Acres Rd., Bend, OR #A1
Phone: (541) 728-9663
www.ntzink.com

Prineville Body & Paint
2591 NE 3rd St.
Prineville, OR 97754
541-447-8994

Prineville Funeral Home
199 NE 3rd Street
Prineville, OR 97754
541-447-6459

SPECIAL THANKS:
Crook County Parks & Recreation District
398 N. Fairview Ave
Prineville, OR 97754
Phone: (541) 447-1209
www.ccprd.org

Band of Brothers of Prineville
Veterans Helping Veterans
Meets Thursdays at the Prineville Elks Lodge
Come for no host breakfast or coffee 8:00 am
www.oregonbandofbrothers.org
Printer friendly version here.
---
Map of the course is here.
Entry Form is here.
---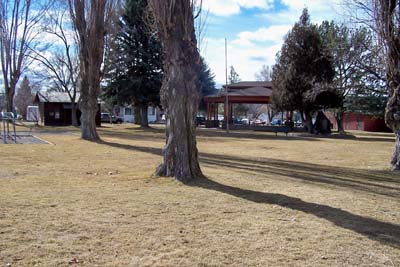 Pioneer Park - Start & Finish

Crooked River Park